Make the most of your visit to Liguria with a Shore Excursions tour leaving from Genoa, Italy. You can book for one person, a group or family.  Check availability and choose your date for this Valid for 48 hours tour.  Enjoy the best tours  in Italy and go home with a memorable experience!
Genoa Shore Excursion: Genoa City Hop-On Hop-Off Tour
Shore Excursions > Ports of Call Tours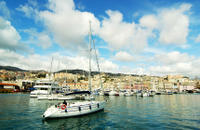 Spend your time in port in Genoa by exploring the birthplace of Christopher Columbus, savoring the excellent cuisine and seeing the beautiful sights with your ticket (valid 48 hours) aboard an open-top, double-decker bus. See all the top Genoa attractions as you hop on and off at eight conveniently located stops around the city. The double-decker bus tour provides an opportunity to discover a variety of magnificent viewpoints in this fascinating city….read more
Leaving from: Genoa, Italy,  – Italy
Tour Duration: Valid for 48 hours
Price US: $17.33
Price EU: €15,00
Book now
Click here to see reviews and comments from real people who have done this tour.
How do you choose the right excursion? Write to us and we will make some suggestions.
Bookings are made with our travel partner Viator